It was another excellent week to be a Rotarian!
For our lunch meeting, we heard from three more grant recipients who received funding from our Bethlehem Rotary Foundation. This week we heard from:
Karen Schaefer – Lehigh Valley Outreach Depot – Supporting their distribution facility - $1,500
Lisa Jordan – Touchstone Theatre – Supporting the Young Playwrights Summer Program - $1,000
Jason Walters – Wesley Church – Supporting their community garden that provides vegetables to local food shelters - $750
Jason Walters from Wesley Church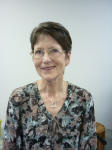 Karen Schaefer from LV Outreach Depot
Over the past two weeks we have heard, first hand, about more than $10,000 worth of support that our foundation has provided to such meaningful causes in our community! Thank you making it happen and thank you to our guests for helping us to see the impact we have!
Next, we heard from Emma Ackerman and Lisa Jordan from Touchstone Theatre.
Emma and Lisa of Touchstone Theatre
The program was entitled "How Art Can Build Community and Understanding". When I first saw this program title, I must confess… I was not quite sure what to expect… particularly since I tend to be more analytical, and much less artistic and creative! Emma and Lisa talked about a recent trip that they and other members of Touchstone took to Poland where they were immersed into a local community to work with its members to create and perform. Despite language barriers and cultural differences, they were able to successfully unify the community in such a unique and creative way. Emma and Lisa, the passion in your presentation was so genuine… and the content that you shared was SO interesting… and I think all who were in attendance would agree, it was a real home run! Thank you for sharing that incredible story!!
Community members in Poland participating in "The Wall."
You should have received my "invitation" to the Annual Meeting where we will elect our Officers and Directors for our next Rotary Year. I will apologize in advance for bludgeoning you with reminders between now and the meeting…. I just need to make sure we have a quorum! So write it down… Wednesday, February 13th, noon at Moravian Village! Apologies to Roger Whiteley, whose name was misspelled on the slate of nominees that accompanied my invitation. I am generally pretty fussy about spelling names correctly, so I am sorry that this one got by me…. Sorry Roger!!
So keep your eye on the Lehigh Valley Press… we will be running some advertisements that will thank (and list) all of our program speakers in 2018! It is quite an impressive list and speaks to the quality of the programs that we provide. This is GREAT publicity and we will include information about where we meet and who to contact if you are interested. You might recall that when we realigned our budget this year, we included dollars to fund promotion… and this is exactly the type of publicity we need! Thank you to Deb Walter for coming up with this idea AND negotiating a great rate!
Thanks to Paul Ricciardi for organizing our monthly DropKick Meeting at Taps Tavern this past Thursday. These meetings are listed on our website, and are always the 4th Thursday of the month. Come check one out and see what you have been missing!
I know that I have been consistently providing reminders about the District Conference that is coming up in the first weekend in May… but I want to make sure that you all pay special attention, and hopefully register! There was an Area 2 meeting of the Presidents and President Elects this past week, and DG Cindy Hornaman was able to provide many more details about the event, and it sounds like it is going to be a GREAT event! It is occurring right here in Allentown at the Renaissance Hotel with some events at Symphony Hall. There is more information being populated on the registration link below, so please check it out and get registered.
Come join our meeting this week as we hear David Erickson present his classification talk!
Some reminders:
Registration for District Conference is open. The conference this year is in Allentown, so it will be very convenient for us all to attend. Here is the link to view the event and get registered… District Conference Registration